Should I Use Anal Desensitizing Cream?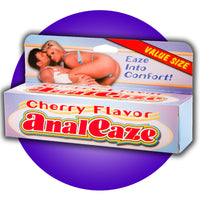 Should you use desensitizing creams when engaging in anal sex or play? Libida.com's experts weigh the pros and cons.
Should you use anal desensitizing creams?
Yes?

No?

Maybe?
Anal Desensitizing Creams: Yes or No?
Using Numbing Anal Creams

One final request for the popular anal desensitizing cream, called Anal Eze, has joined the pile of other requests, forcing us to re-examine the controversy over using desensitizing products for sex.

Sexologists (myself included) in the office have resisted these products, stating some legit reservations. Others, insist anal desensitizing creams are practical. Instead of avoiding the subject altogether and simply not carrying them, we wanted to bring the controversy directly to our readers. Here are both positions. You decide.

Yes: Desensitizing creams and gels take away pain in order to avoid ruining a potentially splendid anal-play-moment. The desensitizing ingredients take the sting out immediately allowing you to continue gaining the pleasure without the pain.

No: If anal play is causing you pain you should know about it. Pain is a great way for your body to say "not that way, thank you very much". The pain may be a signal that slight tearing or other damage may be occurring. Listen to it and try a different position, slow down and use lots of lube.

Verdict: Desensitizing creams or gels are not the problem. Ignoring the pain and rushing ahead when you are not ready, is the real problem.

My opinion? Use them as long as you are also aware of what your body is telling you. And make sure to use lots of lube (a thick one like Maximus), slow down and listen to your body.