How to Go Down on a Woman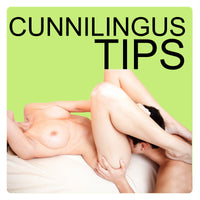 We're not really sure who Bill is, but what we are sure of is that these are some great tips about how to give great cunnilingus.
A few tips on how to go down on a woman
Cunnilingus techniques
Bill's Cunnilingus Tips
Who is Bill?

We're not really sure, but he has some great tips on how to go down on a woman...
Bill's Tips to Cunnilingus
To me going down on a woman is an honor. I love touching every part of her body before I place my head (the one on my shoulders) between her legs. I think it loosens her up mentally, which loosens her physically.
If both parties are not comfortable, the experience can become a pain in the neck -- and literally for you. If she doesn't object, see if she is comfortable placing a pillow under her lower back, or elevate her midsection. It makes for easier accessibility and greater discovery and vision of the entire area.
While no two cunts are the same, the goal is for my partner to shake and quiver uncontrollably. I would have to believe few straight women know their pussy visually as well as a straight man does. Let's face it (pun intended); no set of lips, clit and cave look the same. However, how a guy approaches three particular techniques shouldn't differ a great deal. The three points that I think are important are communication to know her sensitive spots, pressure and speed.
---
1. Get into position. After you kiss her, play with her breasts and work your way down, put one arm underneath her thigh, up and around. You can use this hand to play with her clitoral hood, spread her pussy lips or apply pressure just above her pubic bone. Leave the other hand free if she likes to be fingered during oral sex.
2. Get started.The pressure you place on selected areas makes a difference. When I first touch the pussy with my tongue, I find women love a strong, slow approach up and down the lips. Almost as if you are placing a very thick coat of paint on a wall in one complete motion. In the movie "Karate Kid" it's like the movement "wax on, wax off." Slow, firm and broad strokes. Following that motion, I spread her open with my fingers and use my tongue to slowly lick all around her inner labia, teasing the clit hood every once in a while. I find getting to know the clit really takes it to another level. A few motions I recommend with the clit are sucking it and the area around it between your lips and whippping your tongue back and forth. Some women like a firm, constant lapping.
3. Go for it. Dive in. Don't stick your tongue way out; your hands should be spreading her open gently, and your your lips should make full contact with her pussy while your tongue moves over and around her clit. Use a couple of fingers to press on her g-spot if she likes internal stimulation. Pay attention to her moans and movements. If she wiggles backward, you're being too rough with her clit. If she presses into you, keep doing what you're doing. Seriously. Don't stop.
4. Give her an amazing orgasm. A gradual increase in speed helps. Ask her to tell you when it's too hard or soft. She might ask you to pick up the speed or slow it down. Listen to her verbal and non-verbal cues. Once you have her going…DON'T STOP! Don't go faster, don't go slower. Most women come from consistent rhythmic stimulation.
You can get her off with your tongue, with your tongue and fingers, or you can try using
sex toys
and sexual enhancers. Using a
bullet vibrator
can really intensify her experience. KY Intense is a gel that will make her feel warm and tingly and more aroused. An insertable g-spot dildo will please a girl who loves g-spot orgasms.