Chocolate Covered Kisses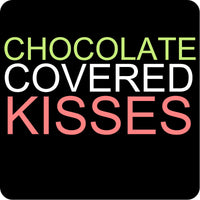 A sensual story of one woman's first oral experience with her first female partner.
by Savannah Skye
Chocolate Covered Kisses
Chocolate Covered Kisses
by Savannah Skye
I was 21, and up until now had only been with men sexually. Well that was going to change after tonight for my friend, Lorelei, who was bi-sexual, was staying the night. For tonight I was going to let her take me into the woman-on-woman pleasure zone that I never visited before. She knew I had never been with a woman before, so she didn't push it, and just waited to let it take its own natural sexual course. I was coming to the point where I wanted to be with her sexually, so I invited her over to dinner and dessert of the sexual kind. Around 6:30, she arrived and we ate the dinner I just prepared -- a quickie -- frozen tofu burgers and applesauce. I was not much into cooking (at least on the stove that is) in those days, or these days for that matter. I did however put time into making myself as tempting sexually as I could. I wore a tiny tube top, a mini-skirt with only a g-string on underneath and let my feet go bare and free. I noticed that she dressed quite sexily herself, wearing skin tight pants and was bare breasted under her tank top. Her outfit revealed all of her luscious womanly curves that I was going to partake of in pure sexual delight with all of my sexual might during that heated night.
Later when we were eating, I noticed how she ate her food so sensually, making me wet with delight, thinking how nice it would be to feel her tongue gliding all over my body and slipping and sliding in between my wet velvet walls and kissing and pinching my breasts, making my nipples all hard with delight. During the course of our eating, she slipped off her shoes and caressed my calves and thighs with her soft, sensual feet, to which I replied with the escape of a soft, purely sexual moan that came from the deep of my throat.
She just smiled and continued and said to me, "we can continue this after dinner if you want to." I just smiled, scooped up some applesauce with my fingers, rolled up her tank top and spread it all over her breasts and licked it off, and then finished my dinner that was on my plate. She then slid her finger under my g-string and a big smile crossed her face when she felt how wet my pussy was. She knew tonight we were going to finally cross the lines of platonic friendship, taking it into the sexual realm.

"I just smiled, scooped up some applesauce with my fingers, rolled up her tank top and spread it all over her breasts and licked it off..."

Later that night we were both changing. I decided to make the first after dinner move on her. All her clothes were removed and she was fully nude, (as was I). I could see her curves by the light of my lamp next to her. I walked up to her and gently caressed her buttocks. Next I bent over and licked her straight up from the base of her spine all into the center of her very warm and soft, sensual neck. I then gently kissed her breasts, one by one. They were so soft and sweet, so round and luscious, so full under my hands.
She didn't stop me, so I took them fully into my mouth, one by one, alternating with my hand cupping and massaging the free one that my mouth wasn't sweetly sucking. Then I persuaded her to sit on my couch, which after she sat, I wrapped my thighs tightly around her waist and slid up and down on her stomach with my wet, spread pussy. Then I sat firm on her bone that was protruding through her soft, delicate skin. I circled my clit round and round, slid back and forth on it until I came - I love doing this.
I then proceeded to plant a long, wet, sensual kiss on her that must have lasted at least 5 minutes. I was becoming impatient to go down on her, and a little nervous because this was my first time pleasing a woman sexually. So first, while I was kissing her I slipped my hand between her thighs, with my middle finger rubbing her clit. I must have been doing something right, because she was moaning with ecstatic delight, so I continued. Then I went down on her sweet juicy pussy that was fully open and waiting.
I started by spreading her lovely lower lips with my hands and first kissed her clit and took in the full aroma of her sweet smelling pussy all the way full into my nostrils. Oooh, the first tast of her pussy on my tongue sent shivers down my spine I licked it and sucked it, first slowly, then quicker which was exciting her beyond belief. I then circled her clit with my tongue and placed intermittent fervent licks upon it. Oooooh, how I loved the smell and taste of her aromatic aphrodisiac juices that she was emitting so delightfully. I loved it so much that I stuck my tongue fully into her pussy hole - it was soooooo warm and soft in there.
I then proceeded to jet my tongue in and out rapidly while at the same time rubbing her clit with my fingers. I was more adept at pleasing a woman sexually than I thought I would be, for her juices were springing forward with wet delight. To which I drank up with full and pleasurable abandon. After I came up, we continued kissing long and languorously, with our tongues almost full in each other's throats. This time our kisses were juicier and sweeter, with her tasty pussy juices mixed in.
After a while of heated kissing, she picked me up and took me into the kitchen. She laid me on the kitchen table and walked over to the cupboard. She found my liquid chocolate. She said "spread your legs" to which I did so, with some curiosity. Then she proceeded to squirt the liquid chocolate into my now open mouth, then onto my wanton breasts, then further down my stomach and full into my pussy. Which then she said to me "there's nothing in the world better for dessert than chocolate covered breasts and pussy".
Then she kissed me and played with my breasts, spreading the chocolate to fully cover them, this action of hers filled them with the most delightful sensation. She kissed them, licked them, and sucked them all the way 'til they were dark chocolate hard. At the same time she was stirring around the chocolate in my pussy with her fingers, so as to fully chocolate cover coat it. She finally went down on my impatiently waiting pussy. First she licked my outer lips, then spread them very wide open with her fingers and dove in tongue first like the oral pro that she was. Ooh, her soft, sensual female mouth felt so good inside my warm wet pussy, and her tongue did things to my pussy that I only ever imagined before. I came over and over and over and over until I finally went in total orgasmic bliss, with my luv juices squirting all over her face and into her mouth. She lapped up my joy juices all the way to my last drop. When she was done, she kissed me fuller than before. Oooooh, her chocolate covered kisses tasted so divine with my pussy juices mixed in.
After this sweet oral endeavor, we went into my bedroom and landed straight on my bed, which was a mess. So we threw everything on the floor and abandoned ourselves to the night's passionate throes. She positioned herself on fully folded and bent knees. Then she said to me "come sit on my thighs, with your feet behind you", which of course I did.

"Stop, I want to play your g-spot and give you the best orgasm that you've probably ever had in your life"
She put her four fingers together and inserted them into my waiting pussy, which was already pulsating with pure pleasure. She was going slow at first, then quickened her pace. I started to rock back and forth and slide up and down as far as I could. She said, "Stop, I want to play your g-spot and give you the best orgasm that you've probably ever had in your life". Now I heard of this spot, and only one other person in my life purposely found it, she would be the second. She curled her fingers and found it almost right off. First she massaged it gently, for it is very sensitive. Then she manipulated her fingers back and forth, then into circles. She continued with more pressure, and my body started quivering with total ecstasy. I wrapped my arms around her tightly, and she kept going until I finally came like I never came before in my life - juices were flowing down my thighs thicker than ever. She kept going, and I surrendered myself totally to this pure pleasure that she was giving to me. Finally, my body went into a full body orgasm. She then drank down all my liquid luv that was cumming out.
After she was done giving me her finger-filled delight, she kissed me on my breasts, then on sweetly and fully my mouth. She then leaned over and whispered into my ear, "Next time I expect you to do that to me, but this time, I will accept the fact that you're inexperienced sexually with women. Though, don't get me wrong, you surely pleased me enough to make this erotic encounter worth it's while". I responded to her with a soft kiss on her lips and then a soft goodnight in her ear, which I whispered a sweet nothing -- "Next time I will give you more pleasure than you could imagine, and hopefully as much as you just gave to me". She smiled, closed her eyes and fell asleep in with my arms wrapped around her soft sensual womanly body and off into dreamland we both went.
 
*Courtesy of sauce*box.com