Traditional Vibrators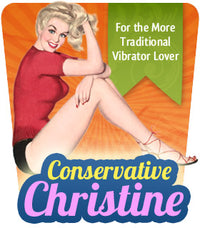 If you're a Conservative Christine, you want a vibrator that is more traditional and discreet. Find Your Best Vibrator here!
Conservative vibrator customers are looking for a discreet, dependable vibrator. Find your best vibrator at Libida.com.
Conservative Christine
New to the world of vibrators? If you're a Conservative Christine, you're on the traditional side when it comes to sex toys. Perhaps you're a little older and have finally decided to give them a spin. Maybe your husband or partner is traditional, and that's been holding you back. If you're a Conservative Christine, you're looking for something small and discreet, but more importantly, something that's sure to provide you with long-lasting pleasure. Read on to find out about our best first time vibrators.
Petite Flutter Rabbit Vibrator

Experience big pleasure in a small package with the Petite Flutter Silicone Rabbit. Vibrators.com loves the Petite Flutter Silicone Rabbit because it's a smaller version of a traditional rabbit, enhanced with silky smooth silicone and 7 powerful functions of vibration, pulsation and escalation. Sometimes rabbit vibrators can be overwhelmingly large—the Petite Flutter Silicone Rabbit is just the right size if you prefer less penetration.

Lelo Gigi Rose Vibrator

The Lelo Gigi Vibrator is Lelo's best selling vibrator. On the smaller side, the Gigi is curved to hit your g-spot, and is just the right size for incredible orgasms.The silicone Gigi's curved head was designed to press against and massage your G-spot.

The Romance Vibrator

The Romance Vibrator is one of our favorite vibrators at Libida.com. This premium silicone massager gives you very intense, whisper quiet vibration. The Romance Vibrator is ultra strong and quiet, with seven functions of low, rumbling vibration and pulsation.

The Laya Spot Vibrator

The Laya Spot is one of our favorite vibrators because of how quiet and strong it is. It has a nice, smooth texture that feels incredible. The Laya Spot Vibrator is a pebble vibrator that lays over your more sensitive spots, hence the name. This small, rumbling vibrator is perfect for the girl who likes to grind.

Lilac Dreams Vibrator

TWant the silky feeling of real skin? Try the PureSkin Vibrator. This soft, smooth vibrator features a solid core and a plush, velvety soft coating, making it feel just like a real, perfect penis. Ribs and ridges along the length of the PureSkin Vibrator add to the pleasurable sensation. This vibrator vibrates at a quiet, pleasurable purr.

Hitachi Magic Wand

The Hitachi is the strongest vibrator you will ever encounter. This massager plugs into an electrical socket to provide 1.5 volts of power, more than any battery-powered vibe. This massager has two speeds and is made for clitoral stimulation. Optional attachments can be purchased to make this vibrator into a G-spot or penetration toy. Perfect if you prefer a lot of vibration.
---
If you found these recommendations useful, please enter CHRIS at checkout to receive a 10% discount on your order.
---