Glamour Vibrators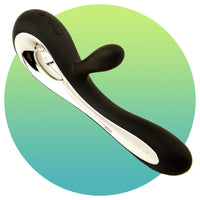 Gone are the days when purchasing a vibrator meant buying a cheap plastic novelty with an ineffective design and poor controls. The time when a "premium vibrator" was unheard of are long behind us. Now we have entered the era of glamour vibrators, and Libida is here to guide you through the world of high-quality sex toys.
Featured products include:
Lelo Vibrators

The Era of Glamour Vibrators
The Era of the Glamour Vibrators 
Until the last few years the vibrator was a woman's hidden secret, something to be kept discretely concealed. Vibrators were sold mail-order style through small ads in the back of questionable magazines or as novelties in seedy sex shops. The vibrators themselves were often made of inexpensive rubber materials, sleazy packaging and ultimately ineffective design.  While quality has been steadily improving, few vibrators had an elegant shape, and instead sported bunny ears or ducky shapes as a way of hiding their true identity.
But ever since the internet era, the veil of secrecy around sex toys has evaporated - giving traditional mainstream businesses an opening to get involved in the design and manufacturing of vibrators. Women and money have entered the business of the manufacture of sex toys, which has amped the glamour factor ten fold. Several companies have popped up producing elegantly packaging and designs that mimic the shape of the female form. They are sensual in their own right, technologically advanced with quality workmanship.
Lelo Vibrators:
Lelo is known for elegant and effective design with a large and ever-growing line of innovative vibrators.  We like them because they are environmentally aware (ALL their vibrators are rechargeable.).
Lelo Vibrators: Ina, Lelo's newest addition, is a dual (rabbit) vibrator that is rechargeable and designed with simple lines.  Gigi is another favorite for G-Spot stimulation.  Or try Lily for small clitoral vibrations.
What is a Glamour Vibrator?
Look for:
Ergonomic design (smooth curves that fit the female form)
Artistic and discrete design (with sculpted form that could be left on the coffee table as art)
Multi-speeds (varying pulsating and throbbing vibration to avoid numbing)
Elegant packaging (propped up on pedestals with tasteful instructions)
Travel and storage bags
Phthalate free, body-safe material
Environmentally conscious (rechargeable or alternative power)
Reliable power and function.