Sex Toys That Aid Female Ejaculation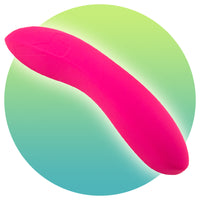 A list of sex toys that our sexperts recommend as the best ways to bring about female ejaculation - and some information on why you might want to experience it!
Recommended toys, including:
Crystal Wand

Pocket Rocket

More!
Tools for Female Ejaculation
Tools for Female Ejaculation
Sex toys that help women ejaculate

by Dr. Petra Zebroff
 
Women can come violently, spastically, enduringly…but copiously?
Absolutely! The truth is approximately 20% of women have reported ejaculating in one form or another. Those who have felt the release, strongly recommend it.
Libida has come up with some product suggestions to help those who want to explore the realm of ejaculation – the female way.
Put on the Pressure! Most women report that their first experience of ejaculating came from stimulating the G Spot (the area of spongy tissue surrounding a woman's urethra – It can be felt 2-3 inches on upper wall of vagina – See How to find your G spot). Pressing and rubbing this spot causes it to swell leading to intense excitation, and orgasm. This is the most direct route to ejaculation.
 
G-Spot Sex Toys
The G-spot is easy to find when it is stimulated, but requires deep pressure to find it when un-stimulated. A firm, angled toy is often needed to apply enough pressure.
For those who like it hard:
nJoy Pure Wand – A sensual S-shaped dildo designed to find your G-spot -- and other hard-to-reach places.
For those who like it thick and pliable:
Lelo Gigi – A friendly G spot vibrator with a perfect curve and intense vibrations. A wider girth covers more area (for those who are really lost).
Spewing contests - Strong (PC) muscles have been linked to female ejaculation. Stronger muscles lead to stronger orgasms and more pronounced ejaculation.
Lelo Luna Balls – This sexy vaginal barbell quickly tones and strengthens PC muscles leading to more intense orgasms and an easier time ejaculating.
Don't forget the (almighty) Clit. Clitoral Stimulation helps to arouse all of the vital elements to move the process along that much more quickly.
Pocket Rocket - A vibrator small enough to fit in your pocket, and strong enough to help you along through clitoral bliss.
Seeing is believing: Seeing other women ejaculate answers some of the basic questions that are otherwise difficult to put into words and gives some idea as to what to expect.
The Amazing G-Spot and Female Ejaculation – Explore female ejaculation and take your orgasms to another plane of physicality and ecstasy. This video gives you a detailed anatomy lesson, and then offers a peak into just how it's done. It's quite a spectacle.
Whether you ejaculate or not depends on your anatomical makeup. No matter how much stimulation some women get they may have a clitoral or G spot pleasure, and not ejaculate. Whether you do or don't, (and by the way, I don't) it is an excellent excuse to writhe in pleasure.