Lelo Vibrators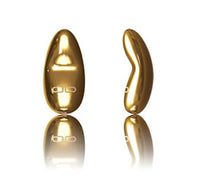 Exceptional design, durability and effectiveness are just three of the reasons that Lelo vibrators and sex toys are known throughout the world.
The first vibrator Lelo came out with was Lily by Lelo, a sleek little clitoral vibrator that was reachargeable vibrator and had a curved design that mimicked the curve of a woman's pubic area.
Lelo Vibrators
Lelo Vibrators

How Lelo Changed the Quality of Vibrators
Lelo describes themself as "the worlds best pleasure objects"
 ... and they may just be right.
Ten years ago we, the sex toy consumer, didn't have much choice about what type of vibrator we could buy. There was the cheap white(ish), hard plastic standard phallic shape that cost $9.95 to buy alongside many lines of 'jelly' (read phthalate) vibrators and dildos. While neither of them were falling apart in your hands, they were clearly cheaply made and designed to wear out within a year.   The few well-made toys,such as the famous Rabbit Pearl, were made with high quality motors, but suffered in presentation, with ugly plastic controllers and wires.

Two things happened to change all of that: 1. The Internet; 2. The scare of phthalates in sex toys.  The internet allowed women to become better consumers of the products that were going to be intimate with.  The phthalate scare changed how consumers, and subsequently what manufacturers, thought of the materials that went into their products. 
It was around this time, in 2003, when a small swedish company, Lelo, was formed. Lelo was started by three friends in 2003 – engineer Filip Sedic and industrial designers Eric Kalén and Carl Magnuson – who went looking for a fortieth birthday present for a married woman who had everything.
The first vibrator Lelo came out with was Lily by Lelo, a sleek little clitoral vibrator that was reachargeable vibrator and had a curved design that mimicked the curve of a woman's pubic area.
Since then Lelo continues to top the adult toy scene with their uncomprimising quality with several products a year being added to their different lines, Femme, Homme and Luxe (they even have a gold vibrator) which are scooped up by pleasure seeking men and women. 
In less than ten years Lelo vibrators have changed how we think about vibrators. They are no longer just fun, they are a necessary part of the our pleasure lives. And the asesthetics are no long ingnored.  Lelo massagers are designed to be gorgeous.
 
What makes Lelo vibrators so different?
I have always held true we need to be attracted to our partners, and that includes our vibrating partners. Lelo vibrators focuses on beauty and quality.
High Quality design and durability
Quiet
Body Safe Materials
Elegant, effective designs that mimic the female form
Rechargeable: environmentally responsible
Gorgeous Design!
Curves that mimic the female form
Impecable packaging

Lelo Femme Line
Focusing on quality and beauty Lelo started out with their Femme Line of vibrators.
Lelo Lily: Lelo's first vibrator
Lily by Lelo was the  first vibrator and still one of the most popular.  Lily has a  classic clitoral design with rechargeable base.

Lelo Iris:
An elegant vibrator with soft petal-like ridges that deliver prolonged and intense G-spot stimulation, the larger size promises more fulfilling sensual experiences.

Lelo Gigi:
Lelo's official G-Spot vibrator. A tremendously popular rechargeable vibrator.
Lelo Liv:
The green vibrator, literally. Green in color and rechargeable to conserve energy.  
Lelo Elise Black:
A sleek black, larger vibrator that looks more like a personal massager than a sexual object.

Lelo Ina:
Lelo's rabbit vibrator design. A smooth dual vibrator with a clitoral arm for clitoral vibrations along withinternal g-spot vibrations from the shaft.
Lelo Alia:
One of the newer vibrators with a hollow center for easy maneuvering, makes a wonderful gift. 

Lelo Nea: 
A petite delicate version of Lily design only smaller and more discreet, Lelo . 

 
Lelo Luxe
The LUXE Line of vibrators are made from actual gold or silver. These vibrators retail from $1000 -  $2000 and prove to be the best gift for a woman on this planet!

Lelo Yva Gold Vibrator: 
The luxury 18 K Gold plated vibrator.

 
Lelo's Homme Line for Men 
Men are not to be forgotten by Lelo.  A distinguished line of quality penis rings and anal toys.

Bo Vibrating Gentleman's Ring:
A popular high-end penis ring that offers clitoral stimulation to a female partner while vibrating on the base of the penis for a man's pleasure.
 
Lelo Bob Anal Probe
Practical handle is part of this gorgeous smooth anal pleasure probe.
 
Lelo Tor Penis Ring
Other Lelo Pleasure Products

And now a line of whips and pleasure products have joined the vibrators.
Lelo Sensua Whip
Lelo Intima Silk Blindfold