Free Erotica - Letters from New Orleans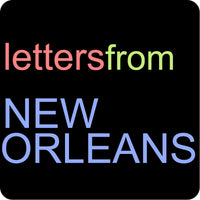 Eating oysters in New Orleans leads to an encounter with a great guy. Let's just call him "Peter."
"No names," he instructed as we walked toward Jackson Square.
"What should we call each other, then?" I ventured.
Letters from New Orleans
Letters from New Orleans
By Catherine M. Tavel
Turning up one block and down another, I was surrounded by seductive fragrances. The sweetness of homemade confections emanated from Laura's Original Praline and Fudge Shop on Royal, the sweets themselves staring out from their doily-covered pedestals. The ruby heat of crawfish beckoned from a Decatur Street restaurant window while the essence of spicy red beans simmering nearby invaded the air near the Praline Connection. And I was lost.
As if by magic, I found myself sitting at a table in the Acme Oyster House, the worn white tiles comfortably familiar beneath my feet. Hands folded on the freshly wiped plastic checkered tablecloth, I watched one of the skilled shuckers across the room behind the aluminum-topped oyster bar. The graceful movement of his fingers as they mastered the flat, dull-edged knife, the soft flick of his wrists as he placed each opened mollusk on the dented platter, were as soothing as the caress of a long-lost lover.
With the shucker's masterpiece finally set out before me, I lifted the first half-shell to my lips and sucked the meat. It lingered briefly at my teeth, then slid down the back of my throat, as cool as a mouthful of jism is hot. One by one, I raised each oyster to my lips. One by one, I swallowed them, engulfed by the clean, chewy taste of the sea. One by one, until the entire dozen was gone. But I needed more. Something different.
A netted basket of crawfish soon took the place of the empty oyster shells. They were boiled to a brilliant red, almost the shade of an engorged cock tip. (Yet nothing is quite that color.) I grabbed one, snapped off the head and squeezed the tail, exposing its delicious chunk of flesh. Gingerly, I grasped the niblet between my teeth. My mouth exploded with the taste.
I was vaguely aware of being watched as I chewed and sucked and licked my meal in sheer delight. A man at a nearby table met my gaze. He said nothing, yet insinuated everything with his penetrating brown eyes. I kept snapping the heads off crawfish as he sank his teeth into a golden, soggy, Po Boy hero. The hot juices from the boiled decapods streamed down my elbows. I wiggled my tongue into their tiny hollow cavities, extracting as much fire as I possibly could. When I finished, my lips and tongue were burning, tingling with Cajun spice. The next time I glanced up, the handsome diner was standing beside my table.
"It's been a pleasure eating alone with you," he said, his intense caramel brown eyes piercing my skin. He moved to leave.
"Wait," I told him.
"No names," he instructed as we walked toward Jackson Square.
"What should we call each other, then?" I ventured.
"You look like a Beth," he said simply.
"And just what does a Beth look like?" I prodded.
He thought for a moment. "Sweet, fragile. That's what I think I'll call you. Beth. You can call me anything you'd like."
I was intrigued; I had grown weary of boring, predictable, button-down types. But was this man certifiable or safe? I could end it right here or ... "Peter," I told him. "I'll call you Peter."
Peter and I chose a quiet bench in Jackson Square, past the easels of artists who did charcoal renderings of tourists, past the painters who sold watercolors of local scenes, past the fortune-tellers with tarot cards stacked up on snack tables. The heat from the bench's wooden slats crept up through my body. I tried my best to mask my arousal.
It turned out that Peter was visiting from New York. A fire fighter by trade, his Cuban-Irish heritage explained his exotic good looks and his wicked smile. His body was thick and strong. Staring at his sturdy hands, his solid fingers, I couldn't help but wonder what his cock looked like.
We stopped for reinforcements at the Café du Monde: strong chicory-laced coffee and sugar-coated beignets. I suppressed a strong urge to lick the sweet powder from Peter's lips. During a stroll along the banks of the Mississippi, we managed to tag along with a walking tour of blue-haired old ladies who welcomed us as if we were grandchildren. An hour into the tour Peter whispered, "I'm hungry."
"But we just ate," I told him.
When the group turned the corner, Peter pressed my back into a wrought-iron fence fashioned of cornstalks and morning glories. The bold outline of his cock etched into my thigh. "Did you ever notice," he said, "that life in New Orleans revolves either around food or fucking?" The crassness of his words sliced right through me, making my pussy throb. I was surprised at myself. How could I be falling for such a ruffian?
"Come on," Peter said, grabbing my hand. "I know the perfect place."
Before I knew it, we were on, of all things, a bus. Not a cab, not a horse and buggy, but a cranking, clanking city bus. We bounced along Canal Street into a residential section that smelled faintly of magnolias. It was a neighborhood of old but well-kept houses with misty front gardens and towering trees whose roots cracked up through the sidewalks. Peter pointed out Madina's, a simple-looking establishment on the corner.
To Be Continued...
 
Source: Sauce*box.com