Traveling With a Vibrator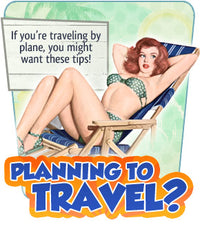 Want to take your sex toys on your next trip? If you're traveling by plane, you'll want to take these tips into consideration.
A how-to guide about traveling with sex toys.
Have Vibrator, Will Travel
Taking your sex toys on vacation? Maybe you're planning a romantic weekend, or perhaps you're going on a long business trip. Either way, if you're flying, you'll want to make sure you pack your sex toys well to avoid embarrassing situations.
How do you pack sex toys? First off, remove the batteries. Even if you think your vibrator is hard to turn on, a little shifting of the contents of your luggage could knock the control to the ON position. You don't want to explain vibrating luggage to security ("But, sir, I always carry my DustBuster!")
Some rechargeable vibrators feature innovative controls that you can lock before you travel. Try the
Lelo Soraya Vibrator
or the
Lelo Alia Vibrator.
Put your vibrators in clear plastic baggies. Airport personnel routinely go through luggage. They wear plastic gloves, but you don't want those gloves, which have been touching everyone else's items, to touch your sex toys. Do the employees and yourself a favor by putting each item in a clear plastic zip baggie. This will keep everything clean and hygienic.
Place your vibrators in your checked luggage. This just removes you from the situation a little bit. If you bring a vibrator in your carry-on luggage, you're asking for an embarrassing situation. Security can search your bag at any time--it's probably happened to you already. They may not take your toy away, but you might feel a little violated. You never know if a man or woman officer will be looking through your bag.
Finally, use discretion in what you bring with you. It's better to bring an inexpensive bullet vibrator or disposable penis ring on a trip than to bring your top-of-the-line rechargeable vibrators. This way, if any of your items are confiscated, you won't risk losing your favorites.
For any further questions on air travel luggage etiquette, please visit the Transportation Security Administration's webpage.
---
If you found this page helpful, please enter TRAVEL at checkout for a 10% discount on your order.
---