How to Buy Vibrating Panties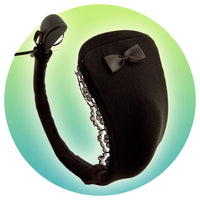 Thinking about buying a pair of vibrating panties? New styles of vibrating panties are discreet, sexy and strong, giving you or your partner complete control over your pleasure.
Vibrating Panties
A buyer's guide
Vibrating Panty Buying Guide
Vibrating Panty Guide
Vibrating panties are one of the most popular couple's sex toys for a few important reasons.
What you need to know when buying vibrating panties.
What are vibrating panties?
Vibrating panties are panties in the form of cloth, lace, leather or a synthetic fabric combined with a small vibrator (usually a bullet vibrator) that sits at the front of the panty over the general area of the clitoris. The toy vibrates against the clitoris and the labia (lips). Some vibrating panties include attachments for penetrative toys (like dildos), but these are less common. After all the clitoris is a woman's main area of pleasure. Vibrating panties come in a couple of styles -- Vibrating Underwear or Vibrating Thongs.
The joys of vibrating panties
 1. You can have the vibrator doing its thing without holding it in place! Instead, you can lie back and enjoy the vibrations, while your hands are free to do other things.
2. Most vibrating panties include a remote control. No wires! Vibrating panties can be a great sex toy for couples because you or your partner can have access to the controls. It can be extremely exciting for your partner to hold the controls to your arousal and your sexual pleasure. You are at the mercy of whomever owns the switch.
3. Get your thrills in public! Vibrating panties can be a legal way to have "sex" in public. Just don't be too loud.
4. Vibrating panties are a lot of fun!
5. Vibrating panties are ultra-quiet.
Points to consider when buying vibrating panties:
1. Size of panty: Look for adjustable panties or super stretchy fabric. You don't want to have to worry about a panty that is cutting into you because it is too tight or falling off because it is too loose.
2. Where the vibrator is located: Your clitoris is going to be located in a different location from your neighbors and so asking one panty to hit the right spot for everyone is unrealistic. Look for a panty that has an adjustable vibrator location.
We recommend these vibrating panties:
Remote Control Vibrating Panty
Remote Control Vibrating Panty: Tucked inside the panty's secret pocket is a 10-function wireless vibrating bullet that is operated by remote control from up to 20 feet away!