Vibrator Care and Maintenance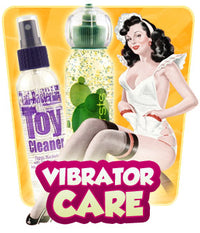 Want to make your vibrator last and last? Follow these simple care instructions to make the most and best of your vibrator.
How to Take Care of Your Vibrator. How to clean sex toys, store them and other general care instructions.
Taking Care of Your Vibrator
No matter what vibrator you choose, Libida.com can help you take care of your new toy. Cleansers, lubes and water can make all the difference when it comes to prolonging the life of your vibe. For instance, did you know that different materials require different cleansing methods? There are also a few standards that apply to the care of every sex toy, no matter what the type.
The last thing you want is for your vibrator to putz out mid-use. Your vibrator was created to please you. If you take good care of it, it will please you for a long time.
Never use oil-based lubes
. Oil based lubricants can gunk up in the controls of your vibrator, rendering them useless. They render latex condoms useless as well, and will break down your latex toys.
If your vibrator is silicone, don't use a silicone-based lube
. Though this may or may not defy your own personal logic, silicone lubricants break down the silicone of your vibe through an adverse chemical reaction. Use a water-based lubricant instead.
Remove the batteries from your vibrator when it's not in use
. Batteries can corrode the vibrator motor when the vibrator is waiting for you in your dresser drawer. Store them elsewhere to make your toy last longer.
Don't immerse your vibrator in water
. Even most waterproof vibrators weren't meant to be fully submerged in the bath. When cleaning your vibrator, use adult toy cleaner or a soap and water solution, and don't get the battery pack wet.
Keep your vibrator safe from fatal falls
. A hard plastic vibrator will break when dropped on a hard floor, just like any other electronic item would.
Use a condom on jelly vibrators
. Jelly vibrators contain phthalates, which may be unhealthy for your skin. Because jelly is porous, it's harder to deep-clean than hard plastic or silicone vibrators. Protect yourself and the material by placing a condom on jelly vibes before you use them.
If your vibrator is electric, keep the cord from bending.
. When you store an electric vibrator, make sure the cord is untangled and unbent where the cord meets the vibrator.
Clean your vibrator after each use.
We love
Anti-Bacterial Sex Toy Cleaner
. Just spray your toys before and after use for the easiest cleanup imaginable. Safe cleansing methods:
Plastic: Use mild antibacterial soap and water; rubbing alcohol; or sex toy cleaner.
Latex: Use mild antibacterial soap and water; or sex toy cleaner.
Jelly: Use mild antibacterial soap and water; or sex toy cleaner.
Cyberskin: Use mild antibacterial soap and water; Cyberskin cleaner; or sex toy cleaner. Sprinkle with talcum powder after every cleaning.
Silicone: Use mild antibacterial soap and water; or sex toy cleaner.
Remember that your vibrator is an electronic pleasure item. Just like other electronics, name brands and more expensive items generally perform better and last longer than cheaper products. A cheaper vibrator will serve you well, but may break sooner than a similar, more expensive item. Top brand names to look for are Lelo, California Exotics and Emotional Bliss, among others.
---
If you found the information on this page useful, please enter CARE at checkout to receive at 10% discount on your order.
---