Best Vibrators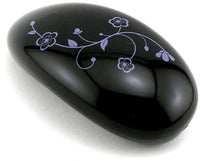 The Vibrator Institute's favorite vibrators, based on both their sound and power ratings.
Our experts picked these vibrators as their favorites based on extensive testing.
The Vibrator Institute's Favorite Vibrators
The following vibrators are hand-picked Vibrator Institute Favorites, based on their performance in our exclusive sound and power tests. These vibrators boast an unbeatable combination of stealth and performance.
The Lelo Nea - A luxury vibrator that houses a quiet yet powerful engine, complete with ten orgasmic settings. (Vibrator Institute Sound Rating: Purr, Power Rating: Pleasurable)

The Dr. Berman Romeo Vibrator - The Romeo is is perfect for powerful G-spot stimulation. (Vibrator Institute Sound Rating: Purr, Power Rating: Pleasurable)

The Rose Rabbit Vibrator - The Twirling Cuddle Rabbit envelopes your clitoris for a light suction you will love. (Vibrator Institute Sound Rating: Purr, Power Rating: Pleasurable)

The Womolia Vibrator - A rechargeable vibrator that can be used internally or externally and has nine vibration programs. (Vibrator Institute Sound Rating: Hum, Power Rating: Intense)

The Techno Rabbit - The Techno Rabbit allows you more control over vibration and gyration than other rabbit vibrators. (Vibrator Institute Sound Rating: Purr, Power Rating: Intense)

The Waterproof Rabbit - A soft and pliable jelly vibrator with a vibrating clitoral stimulator and oscillating shaft. (Vibrator Institute Sound Rating: Purr, Power Rating: Intense)

The Club Vibe - The perfect vibrator to take to a club, party or concert. It vibrates to the music around you. (Vibrator Institute Sound Rating: Hum, Power Rating: Pleasurable)

The Slim Waterproof Vibrator - A slender, powerful hardshell vibrator. It's great for alone time in the shower. (Vibrator Institute Sound Rating: Purr, Power Rating: Intense)

The Couples Love Ring - A quiet couple's sex toy that provides lots of vibration. (Vibrator Institute Sound Rating: Purr, Power Rating: Pleasurable)

The Utopia Rabbit - A luxury silicone vibrator that twists and vibrates at 7 different speeds. (Vibrator Institute Sound Rating: Purr, Power Rating: Pleasurable)