On the Lookout for Innovative Sex Toys?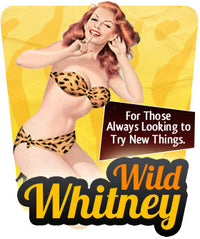 You are a Wild Whitney if you own a few sex toys and you're looking for something new and different. Find suggestions for Your Best Vibrator here.
Our new and different sex toys for the wild girl in you. Find suggestions for sexy vibrators here at Libida.com.
Wild Whitney
If you're a Wild Whitney, then you know sex toys. You own a couple (or a dozen), and you're always on the lookout for something new and exciting. Are you looking to add something wild or different to your ever-expanding collection? Let the experts at Libida.com point you in the direction of new sensations and experiences.
---
The following list details our favorite new sex toys. These toys are vastly different when compared side by side. The one thing they have in common? They're innovative, sexy and will please your inner bad girl again and again.


nJoy G-spot Wand: The njoy Pure Wand is designed to provide a direct connection to your favorite Spot, whether it be the G or P. It's crafted with the perfect curvature and ample reach so you can lay back and relax while you pleasure yourself or your partner with firm, controlled massage. The Pure Wand has become the favored implement for practitioners of prostate massage and the delicious art of female ejaculation.


Waterproof Rabbit: The Waterproof Rabbit is a jelly rabbit vibrator that combines clitoral vibration with a rotating shaft for an orgasmic combo. If you love your rabbit, try this one: You can immerse it in your bath for an ultra-private experience—or in your pool for an ultra-public adventure.


Under the Bed Bondage Restraint Kit: No headboard required! Simply loop this restraint kit under your mattress and turn your bed into a sexy, bondage paradise. Includes ankle and wrist restraints.


Ribbed Pyrex Dildo: Heat this dildo up or cool it down for entirely new sensual sensations. This dildo has everything: It's hard, ridged, bulbous, bumpy and double-ended for solo or mutual pleasure. It's curved for G-spot stimulation as well. Experience this dildo by itself or add a vibrator for clitoral pleasure.


Deep Thrusting Dildo: This latex vibe gives you extremely powerful vaginal and clitoral stimulation. This vibrator thrusts in and out all by itself, while the balls provide intense vibration to your labia and clitoris. This one is like a rabbit with an all-new twist.


The Anal Sex Toy Kit: This assortment includes three soft butt plugs and a larger anal vibrator. This high quality kit is perfect for beginners or those who wish to have a toy on hand for every mood or occasion. This kit is a great way to ease yourself into anal sex.


Ben-Wa Balls: Keep your vaginal muscles toned with Ben-Wa balls. Insert these balls any time to enjoy light vibrations and exercise the walls of your vagina. The result? Better sex and stronger orgasms. You can even wear them during sex for a completely new experience.



---

If you found this page helpful, please enter WILD at checkout to receive a 10% discount on your order.

---