Masturbation Tips for Women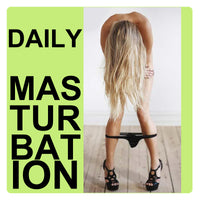 28 tips to help you get inspired while masturbating. Try something new every day for a month.
New products for enhanced pleasure
Masturbation tips for variety
Daily Masturbation Tips
The Basics of Masturbation
28 Tips to help you get inspired when masturbating
If you're a novice at getting yourself off, you'll be glad to know that almost all women masturbate in some form or another. Here are a few tried-and-true techniques from Libida.com to help you make the most of your self-pleasuring.
First, you'll want to find a place where you'll be comfortable. Letting go of your inhibitions is easier if you're not worrying about who might be walking through the door.
Speaking of company, try going it alone at first. There is more room for exploration and, learning to please yourself can be incredibly rewarding.
Pay attention to what turns you on. Adult videos or spicy erotic novels are always great fodder for fantasies. You can imagine your lover to be anyone, at all -- even that cute bagger at the grocery store.
Enjoy the experience. Being goal-oriented can really undermine your enjoyment. Orgasms are great, but there's a plethora of other stuff to enjoy along the way. Take your time.
Masturbation can become an art form in itself -- whether you enjoy it sporadically, or use it frequently as a stress reliever. Don't worry about what you think you should or shouldn't be doing. Feel free to experiment with something new. There's nothing wrong with using your old favorites, but it can be fun to branch out.

Daily Tips:
Day 1: Try adding a little bit of visual inspiration. Watch an erotic DVD.
Day 2: Just add water. Try masturbating in the tub with a waterproof, battery powered toy like the Romance Vibrator.
Day 3: Lube -- a girl's best friend. Astroglide or any other good lube can make everything from fingers, to toys, more slippery.
Day 4: Make noise! Groan, coo, moan, and talk dirty to your lovely self. Increase your dirty word vocabulary with The Fine Art of Erotic Talk.
Day 5: Stimulate your G-spot. The Intense G-Spot Vibrator will help you find your own personal pleasure zone.
Day 6: Love your clitoris! Let your fingers do the walking or add a toy to take you over the top. Lelo Siri offers distinct clit friendly vibrations.
Day 7: Watch yourself in the mirror as you masturbate. Try a penetrative vibrator like the Lelo Liv.
Day 8: Fantasize about double penetration and try it yourself with a dildo and a plug like the Small nJoy Plug.
Day 9: If you're new to using a vibrator like the Hitachi Magic Wand, put a towel or cloth between your clit and the vibe to ease yourself into the action.
Day 10: Masturbate with your lover. You can begin by turning on one another with the Gossip Ring Finger Vibrator.
Day 11: Stimulate your nipples while you get off. On the adventurous side? Try the Adjustable Pink Nipple Clamps.
Day 12: Add a little anal play. The Flexi Felix is a great starter toy.
Day 13: The Rabbit Habit is perfect for those who want it all. It delivers clitoral and vaginal stimulation simultaneously.
Day 14: Fuel your fantasies with the eye candy of The Art of Sexual Positions and Techniques DVD.
Day 15: Get out of your dildo rut with the elegant acrylic Crystal Wand.
Day 16: Ejaculating isn't just a guy thing. Check it out with Female Ejaculation and the G-Spot.
Day 17: Batteries . If you're into vibes you can't be caught without them.
Day 18: Get the most out of your coffee breaks with the Lipstick Vibe neatly tucked in your desk drawer.
Day 19: Being stuck in traffic isn't so bad when you have the discreet Fukuoku 9000 to keep you company.
Day 20: Turn up the heat on your next date with your lover. Have them control your pleasure while no one is the wiser with the Luxury Vibrating Panties.
Day 21: Get excited. Increase your heart rate to increase your arousal. Go for a run, watch a scary movie, or read Better Sex.com's Best Erotic Stories.
Day 22: Fantasize about the real thing while you use the ultra-realistic White Cyberskin Vibrator.
Day 23: Let your mind wander to something you normally wouldn't, even taboos.
Day 24: Walk around all day with a beautiful plug inside you. Try the Prism Butt Plug.
Day 25: Use a glass dildo like the Don Wands Ribbed Pyrex Dildothat has "bobbles" or "nubbs" on it – more for the vaginal muscles to grab onto.
Day 26: Understand his moves and get turned on in the process by watching him masturbate with the Fleshlight.
Day 27: Indulge in female genital massage with a natural wooden dildo like the Tryst.
Day 28: Explore new sensations with the Oil of Love Set.