How to Have an Orgasm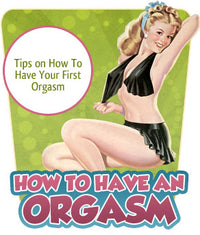 Are you having difficulties achieving orgasm? This guide contains tips on how to have a completely fulfilling masturbation or partner sex experience.
How to have your first orgasm.
How Do I Have An Orgasm?
For many women, orgasms have a large mental or psychological component. Go figure. This means that if you aren't relaxed, or if you're stressed about trying to pass the plateau phase and reach orgasm, chances are: You won't get there. This is why we recommend masturbation with a high-quality vibrator instead of partner sex for your first orgasm. This way, you can explore your body without the added pressure to please a partner. Once you learn to orgasm by yourself, you can share everything you've learned with your partner.
Of course, if you have a trusting relationship with your partner and want to let him or her in on the exploration, feel free. Do whatever you feel most comfortable with.
---
First off, we think it's important to be in a relaxing environment where you know you won't be interrupted, whether that be your bedroom, the bathtub or sprawled across the living room floor. Take whatever you think you might need with you: your new vibrator, a couple of pillows, lubricant, erotica or a DVD. 

Once you're settled, start thinking about what turns you on. Relax into your fantasy or pretend a partner is there. Masturbation can include breast play, running your hands over your stomach or thighs—whatever feels good in the moment. If you'd like extra stimulation, read or watch erotica as you let your hands wander. Rev yourself up so you're ready to use your new vibrator or dildo.

Once you get aroused, try using a vibrator all over your body. Experience the vibration on your nipples, inner thighs, labia and clitoris. Go slow and focus on the areas you really enjoy. Once you're ready to explore further, apply a generous amount of lubricant to your vibrator and your labia. Set your vibrator on a low speed and slowly slide it over your genitalia, spending time on the parts that feel especially good. If you feel like you'd benefit from penetration, add a dildo to the experiment (and more lube). Or, if you have a vibrator made for penetration, use the vibrator. Try applying pressure to your clitoral area with your free hand to add to the excitement.

Experiment with the settings on the vibrator as well. Do you like low vibrations or high-speed buzzing? It's different for every woman, and all based on personal preference.


---
If you're looking for the best vibrators to get you there, try:


A flexible, thick dildo like the Pretty Purple Dildo combined with the Lelo Nea vibrator (for penetration plus clitoral stimulation)
A very strong clitoral stimulator like the Hitachi Magic Wand
An intense clitoral, vaginal and G-spot vibrator like the Jack Rabbit
A luxury vibrator that pinpoints the G-spot and clitoris, like the Iris
---
While you're playing with yourself, remember that the expression exists for a reason: You are playing. It's fun! Give yourself ample time to experiment and stimulate. Don't set a time limit on your orgasms. Keep trying, and don't get frustrated. If you get a vibrator that's not working for you, you might need a different type of stimulation. We carry all shapes and sizes to fit every need. We hope the tips on this page help you experience a more satisfying, fulfilling sex life.


---
If you found this page helpful, please enter FIRST at checkout to receive a 10% discount on your order.
---