Reduce Stress with Orgasm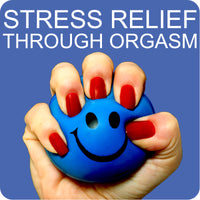 Try using a vibrator for stress relief. Vibrators are perfect for body massage and orgasm, which both relax the body and mind.
Vibrators for stress relief
Use for massage and orgasm
Try the Hitachi Magic Wand
Stress Relief Through Orgasm
Personal Massagers for Stress Relief
Body Massage vs. Orgasm. Both are top methods used to relieve stress and ease the tensions of our time. Which works best depends on the individual. Luckily, no compromise is necessary as both are achievable with the help of a vibrator. Some vibrators even help to aid directly in both massage and orgasm.
Strong Throbbing Vibrations: Melt the tension away with the Hitachi Magic Wand. Hitachi Magic Wand -- one of the all-time favorites -- delivers strong reliable vibrations to both tense shoulders and the clitoris.
Tiny and Cordless: Non-intrusive relief with the Fukuoku 9000. Relief for headaches? Absolutely! But the Fukuoku's real talent is adding vibration to your sexual repertoire, simply and non-intrusively. Slide the tiny cordless Fukuoku right onto your fingertip and incorporate vibration into partner-sex or masturbation as naturally and easily as if touching yourself.
Other popular stress-relieving vibrator types:
Waterproof pleasure: Combine bathing relaxation with powerful vibrations. Use waterproof vibrators discreetly in your bathroom.
Hands-free Bliss: Vibrations without lifting a finger. Try one of our wearable vibrators for ease in pleasure.
Double Your Pleasure: with the Rabbit Habit Vibrator. With vaginal and clitoral pleasure at the same time you will simply be unable to think of your stress.