How To Use a Cock Ring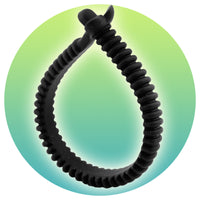 Cock rings restrict blood from leaving the penis, making it thicker and fuller. Some men last longer with cock rings and have stronger orgasms.
What are cock rings?
Ask the Sexpert
What Are Cock Rings?
Ask the Sexpert
What is a Cock Ring
Dear Ann,
I've seen cock rings (penis rings) for sale on yours and other sites. I have no idea what they do, and neither does my boyfriend. Are they for him? For me?
Dear Reader,
First, some anatomical basics: the penis, like any other part of the body, has blood flow in and blood flow out. The blood flows in to the penis through veins located towards the center of the penis shaft. (Where the stick would go if it were a corn dog. Thank god, of course, it isn't.) The blood flows out of the penis from blood vessels located close to the surface of the penis. (Where you would find the delicious, if slightly greasy, cornmeal crust.) Snap or slide a tight-fitting cock ring on the penis and you put pressure on the skin's surface, stopping some of the blood flow out, while new, oxygen-rich blood continues to flow in.

Some men can achieve a harder, longer lasting erection when wearing a cock ring. Men who use them enjoy the sensation, describing it as one of fullness or pressure. Some men can orgasm while wearing a cock ring, reporting that it feels the same as, or more intense than, their no-ring orgasms; others find they need to release the ring before they can ejaculate or orgasm.

Women can get some side benefits from his cock ring use: Some cock rings have specially placed nubs, vibrators or bumpy things that stimulate the clitoris during penetration, called penis rings. Penis rings can also include a vibrator that is designed to vibrate against the clitoris during intercourse.
They work, but are frustrating in some positions because it's hard for the stimulator to stay in steady contact with the clitoris. They can stimulate well in positions where there's lots of full body contact -- try sitting on his lap, facing him, with your legs wrapped around his waist. Or, turn the vibrating whatchamacallit around so it vibrates his balls. Some men love that.
~ Ann Whidden