When to Get a New Vibrator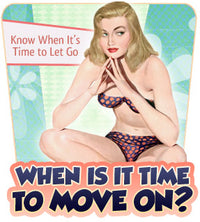 How will you know when it's time to move on? Read our tongue-in-cheek guide to knowing when it's time to let go of your vibrator.
A guide to knowing when to let go of your vibrator. Trash your sex toys when you move or when you start seeing a new partner.
When Should I Throw My Vibrator Away?
There are a few instances when we think it's imperative you throw your vibrator out, or at least stash it deep into oblivion.
---
When you move. Especially if family or prudish friends are helping you cart your boxes from place to place. Once during a move, I buried a rabbit vibrator deep into the depths of a clothes-filled laundry basket. After my mother, stepfather, brother and best friends moved me to my new digs, I unpacked the laundry basket to find only clothing--no vibrator!

My friends claimed no involvement and my family never mentioned anything. The case was never closed; I still don't know if the vibe fell out of the basket (and into my apartment complex parking lot, yay!), or if my stepfather found it and burned it while chanting Bible verses.

I can only impart this advice: Transport your vibrators yourself, before the move, or be completely safe and throw them out before the big day (I've been known to drive mine to random dumpsters just in case). You may be attached to your vibrators, but you can always get a new and improved toy at Libida.com. We'll help you make the best, most pleasing choice.


---
When you get into a new relationship. You may cherish your two year old vibrator. It was with you through thick and thin, through every dry spell you endured. It was there for you: to relieve stress from your job, stress from school, stress from your family, stress from your last boyfriend. And most importantly, your vibrator was fun and easy to use. You'd mastered it.

But when your new boyfriend is introduced to Old Vibrating Faithful, dudebro might be a little put off. Even if he doesn't say anything, he'll wonder who else has met your vibes, or even who else has played with them. And you. And when he has these jealous fantasies, both of you will suffer the consequences.

To avoid this debacle, but still introduce sex toys into your new relationship, shop for new ones together. You'll accomplish two things: You'll keep your boyfriend comfortable, and you'll find out more about what he desires. You can shop privately at Libida.com for something he can watch or help you use (like The Pretty Purple Dildo or Dr. Berman's Pocket Rocket) or for something that will stimulate both of you during sex (like The Dolphin Vibrating Penis Ring).

You can always keep Old Faithful. Just move him to the back and make some room in your nightstand drawer for sex toys you and your new lover can discover together.


---
You're bored! Sometimes, just like a man, a toy is great for the first few months. You rush home from work, excited to lock yourself in your bedroom or bathroom for some thrilling alone time. You go out to the bar with your friends and can only think about what's waiting for you at home.

But, after a while, you know what to expect. The thrill wears off. You know all your man's ... I mean, your vibe's ... tricks. Your eyes start wandering. Even the hum of your fridge and the buzz of your vacuum start to sound interesting. This is when you have to admit the truth: It's time to try a new vibrator.<

Libida.com carries every type of vibrator imaginable. But instead of making it difficult for you to choose by stocking hundreds of each type of vibrator, we only carry a few that we feel represent the best of the best. When you visit Libida.com, you're visiting vibrator experts. We want your experience here to be comfortable, fun and satisfying--just like using a vibrator (well, ok, maybe not just like using a vibrator).


---
Not sure what you want to try next? Try following this guide.

If you're bored with your traditional vibrator (a standard, hard-shelled cylindrical vibe), try a clitoral stimulator. Good ones to try: The Leaf Vitality Vibrator, The Lelo Nea, the Form 2 Clitoral Vibrator or the Hitachi Magic Wand.

If you're looking for something softer for sensational penetration, try the Ceres G-Spot Vibrator or the Enchanted Vibrator.

If you're tired of your standard vibrator and want something with more features, try the Vela Princess, which is made of unbelievably silky silicone. This vibrator vibrates, pulsates and escalates to create seven stimulating vibration patterns.


Be sure to check out these pages for other vibrators you might enjoy: Top Picks, Women's Vibrators, G-Spot Toys, Dildos, and Couples' Toys.


---
If you found this page useful, please enter the code THROWOUT when you check out, to receive a 10% discount on your order. Thank you for shopping privately at Libida.com.
---